Kotka
After an easy 12nm sail from Hamina we arrived in Kotka.  Kotka is on an island and was strategically important as a naval base during the Great Norther War when Russia pushed the Swedes out of what is now Finland.
We had read that Kotka was 'industrial' but it turns out the industry is outside the town and the big ships port has moved out to deeper water.  The town itself has re-invented itself with lots of green spaces and a water park in the ancient dock area.  The former southern docks area is now a National Urban Park, with lovely walks, beaches, boat launching places etc.  The town parks are beautifully planted with flowers and trees, many now in blossom.  Throughout the town there are some forty sculptures, many  rather quirky, and the town has committed to add two more each year.  It is so refreshing to find a town with the will and resources to invest in its environment.  Instead of a post-industrial mess is a vibrant and pleasant town.
Southern Finland is mostly covered in trees and wood is an important natural resource, used in may ways, including for heating and turning into paper and fuel oil.  In one area of Kotka we saw vast piles of wood chips waiting for processing.  They reminded us of sand dunes in the dessert.  A local artist had clearly had the same thought.
---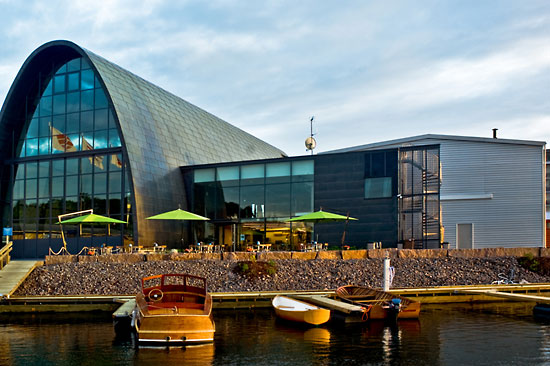 Kotka has been a centre for wooden boat building.  In 2006 a Fin set about the restoration of Blue Marlin, a  classic 1937 Camper & Nicholson-built 12mR class yacht (the class then used in the America's Cup).  To accommodate the extensive work he built a new building, echoing an upturned hull. The work on Blue Marlin is long complete, but the building houses the re-vitalised Finnish Wooden Boat Building Centre, complete with café etc.  We enjoyed wondering around and viewing the various restorations and a new-build in progress.
The most impressive building in Kotka docks is the vast Maritime Centre Vellamo.  The building is inspired by a breaking wave.
Inside is a vast hall exhibiting classic wooden boats (many restored at the Wooden Boat Building Centre) and others from Finnish maritime history.
The hydrocopter was particularly interesting and a unique Finnish invention.  While it could travel on wheels, the skiis were used over ice but when the ice collapsed, it floated in the water until the next supporting ice. There were many exhibition galleries too.
Pride of place goes to the former ice breaker Tarmo moored alongside.  She was built in Newcastle-Upon-Tyne in 1907 and was in service until 1970.  She was fascinating to explore and we got a good insight into the technology of the time and how the British yard had created a very specialised ship with five boilers, two steam engines and both fore and aft propellors.  Note the raised forefoot for mounting and bearing down on the ice.
How times have changed!  She still relied on engine room telegraphs and speaking tubes.  The crew accommodation is still as it was.
Kaunissaari
From Kotka we had an easy 10nm sail to the island Kaunissaarai, where we spent three nights resting, doing work on Antipole and exploring the island.  There are no made roads, virtually no cars and it was a delight to explore the island on the paths through the woods.  The forest floor is carpeted with Lingonberry and Bilberry plants, which will, no doubt. be covered in berries later.
This island is more developed than Tammio.  There are quite a number of cottages in the habitation near the harbour, a shop and a restaurant where we ate one evening.  Lilac trees abound and are in full blossom.
Loviisa
From Kaunissari we had a stiff 34nm sail to Loviisa against a SW F5 wind. To avoid tacking through narrow passages we tacked out to sea and within 2nm of Russian waters.   This was the first time for a year that we had water coming onto the deck.
Loviisa lies 5nm up an inlet.  It is a rather sleepy small town which makes great play of its artistic and cultural activities. Indeed each of the many benches in the public spaces has a different poem attached on which to meditate.   The season does not really start until mid-summer, so it is still quiet.  However, the marina is where it all happens and on our first night the local school was marking its pupils' leavings with a rock band.
Since the day we arrived back in Finland, the weather has been outstanding.  Until we reached Kaunissaari we had scarcely seen a cloud and locals were remarking on an unprecedented May.  However, that spell has broken and we are waiting in Loviisa during strong westerly winds for an opportunity to progress westwards through the narrow channels of the archipelago.  Hopefully we can make a start tomorrow.
You can view our 2018 track here.